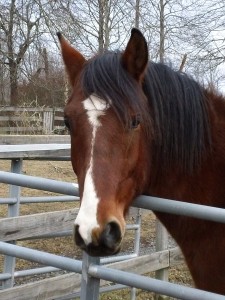 MARNIN
Marnin is a PMU gelding who came to the farm at just 5 months of age. When he arrived, he was really unsure of himself and was quite nervous of any interaction with people. He continues to develop trust and confidence, as he grows in this kind, loving and nurturing environment. Marnin is currently being trained to learn about being ridden.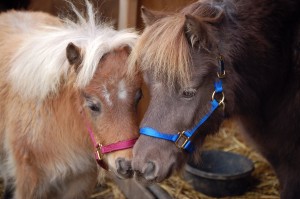 LITTLE ANGELS MINI HERD
Painty, Brownie and their friend Velvet came to the farm 8 years ago, having been seized from a horrifically abusive situation, by the State of Connecticut. They came to us thin, unhandled, nervous and pregnant. Since then, we are thrilled that they have become healthy and happy…and we've wholeheartedly welcomed the addition of their babies, Sunny and Bebe.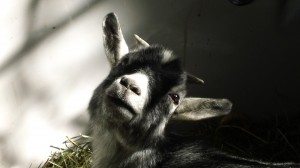 GRACE
Grace is our 6 year old lovey rescued pygmy goat. She came to the farm at only 3 days-old… she had stopped eating/nursing and she had a severe eye infection. We took her in, bottle fed her and administered eye meds every two hours…for 4 months. By the grace of God and with the help of our dedicated Dr. Cook, she was able to heal. We were able to save her eyes, but not her eyesight. Grace doesn't seem to mind being blind, at all. She is happy, healthy and is one of our all time farm favorites. She has fans far and wide!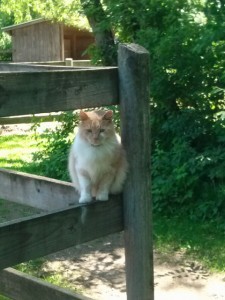 BENNY THE BARN CAT
Benny the barn cat is the self-proclaimed king of the farm. He was rescued by a good Samaritan, from a dumpster in a nearby city. Subsequently, a friend who worked at the veterinary practice she brought him to, called us…the rest is history. Benny keeps a watchful eye on all goings-on here at the farm. He is best viewed from a distance.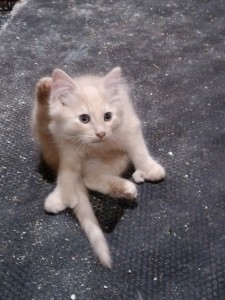 BUSTER THE BARN CAT
Buster came to us, at 8 weeks-old, from another rescue, in a different part of the state. He is now just about a year old and needs regular rescuing, still…from his tree climbing habit…he only knows how to go up a tree…Buster also came to live here because Benny the barn cat requested a minion.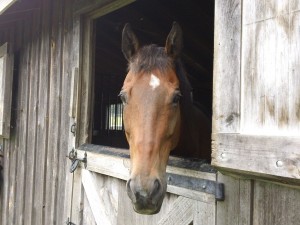 WILLOW
In the first few years of his life, Willow had quite the fast-paced life, in the Quarter horse racing world, out in Ohio. It seemed that he was not as speedy as they would have liked him to be and by the age of four, he was moved along as a riding horse. After a few years, his new family could not keep him and he was headed to auction to be sold… Willow is far too sensitive for that…we feared he would not survive it. He has been with us ever since. The farm is his forever home and he no longer has to worry.